In January, I had my first experience with the Brush Off!  A live painting competition hosted by THEMUSEUM.  Somewhat akin to "Survivor" for artists.
Twenty two artists, five rounds, and one winner!
The night began with 2 qualifying rounds.
Two groups of 11 artists faced off to make it into the final 3 rounds. I was in the second of the 2 face offs.  Guests walked through the crowd watching each artist as they created their piece. We had 30 minutes to finish a painting based on a theme set by THEMUSEUM, and the audience would determine who moved on to the next round based on ballots cast.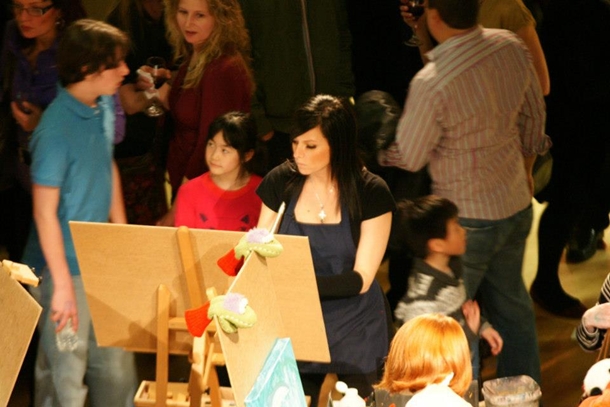 In case you were wondering, finishing a painting in 30 minutes is quite the challenge!
After each round the paintings were collected and hung on the silent auction wall, where guests eagerly made bids in hopes of taking home an original work.
It was tough competition,  but thanks to the overwhelming support of friends, family, and fans I was one of the top 3 artists in the final round!
THEMUSEUM really knows how to throw an art party that's for sure.  A live dj rocked the house all night while Little Mushroom Catering set out a small feast, and the bartenders were pretty busy too.
Watch the video!
All in all it was a fantastic evening of Art, Community, and Creativity!