Artist Bio
Jennifer Gough is a self-taught, multidisciplinary, visual and conceptual artist.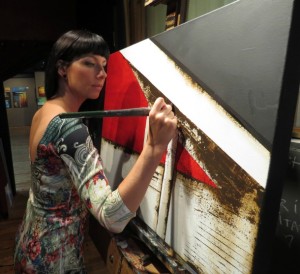 Jennifer has been working as a visual artist in Kitchener/Waterloo and the surrounding area for the past 14 years. During this time Jennifer has established a strong presence in the arts community. In 2010 Jennifer was named one of Waterloo Regional Record's 40 Under 40 as well as being nominated for Woman of the Year, Arts & Culture Kitchener Oktoberfest/Rogers. In 2011 and 2012 she was nominated for the Waterloo Region Arts Award in the Visual Arts category.
Ten years ago Jennifer launched the very successful opening of her own gallery & studio M.E.S.A (Minds Eye Studio Art).  The gallery is home to her work year round and is host to numerous private and public showings. Recently Jennifer has expanded her reach and opened the gallery doors to local and surrounding area artists, emerging and established, to help promote arts and culture in the Kitchener Waterloo Region.

Artist Statement
Jennifer is well known for her abstract contemporary and mixed media paintings. Her work is centered around creating connections, inspiring introspection, and self exploration. Through the use of color, texture, and composition, Jennifer creates compelling works that encourage us to examine who we are and what motivates us. Inspired by the belief that we create our own future through our thoughts and actions, with a strong focus on conversation and communication, Jennifer's work becomes a starting point. A place where questions and answers are equally important and explored openly.
Modern abstracts drenched in color, combined with her use of clean lines and shapes lend themselves to a feeling of big city loft living. Structured, detailed pieces with a definite bold connection to retro print add & comic book genres inspire a playful, punchy attitude with a hint of the provocative. And layered, mixed media pieces give depth and texture to an otherwise flat canvas and add intrigue and interest for conceptual analysis.
"My work as a whole is reflective of my journey through life. Each piece tells it's part of the story.  Driven by emotion, my work expresses feelings of ambition, hope, fear, exhilaration and determination. Bold colors and strong lines represent power and strength, while blended, textured areas speak more to personal growth, passion and the pursuit of happiness.
The realization of our true passion and purpose comes from the active pursuit of our dreams, and the belief that they can be achieved. Achieving them is the easy part once we commit ourselves 100% to our own success." Jennifer Gough
Minds Eye Studio Art
Newsletter
[nm-mc-form fid="3″]