So we all know THEMUSEUM is a huge supporter of arts and culture in Kitchener/Waterloo. Giving us access to amazing exhibits we might not otherwise have a chance to view. Exhibits such as Andy Warhol's Factory, Our Body The Universe Within, and most recently The Titanic Artifacts Exhibition!
Well, it looks like they've done it again!  Get ready for Searching for Tom!  Tom Thompson Man, Myth, and Masterworks.
Last night I had the pleasure of viewing this exhibit, and wow!  It just goes to show you what inspired art, and art inspired BY ART can accomplish.  There are of course works from the Master himself, traditional ranging into the abstract, works by artists inspired by the master and  some very cool interpretive pieces.
There are pieces on loan from the Art Gallery of Ontario,  National Art Gallery of Canada, and The Tom Thompson Gallery in Owen Sound.  Pieces borrowed from collectors and so much more.
The intriguing story behind his life and death leaves many questions unanswered.  Very little is known for certain.  What really happened that night in the woods?  Is foul play involved?  Where is Tom now?
All these questions are the foundation for "If trees could talk",  the installation piece I created for the front window. Large birch trees loom in the window panels, obscuring our view of what's inside.  We have to get very close and peer through the trees to see the projection of Tom, painting and wandering through the forest… searching.  I wonder, If Trees could Talk, would they tell us the story of that fateful night?  Or, would they keep and guard their secrets?  Letting us wonder and keep ever "Searching for Tom"
The exhibit runs from Feb 3rd to May 8th.  Definitely worth checking out!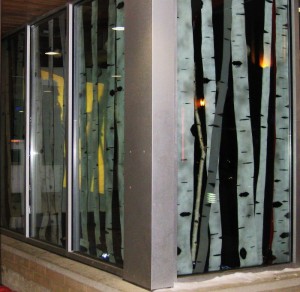 A special thank you to Monsterfarm for  editing and sequencing the video.