On November 2nd thousands of people descended on the the downtown Kitchener core to experience an art exhibition like no other Kitchener has seen before. Artists of all disciplines pooled their talents to bring us the best of what Waterloo Region has to offer in arts, culture, and community. And boy did they!
What resulted was an evening of exploration, interaction, and creative play. Night/Shift, Kitchener's inaugural Nuit Blanche inspired art festival, was a smashing success!
My installation piece, Clash was chosen to be part of this amazing event.
Clash
Directly or indirectly, through conversation we impact the thoughts and actions of those around us. This piece explores the process of colliding ideas and how they can alter the course of events. Is it the loudest voice or the voice of reason that determines the outcome? This piece boldly challenges the viewer to "Make their Point" by becoming part of the conversation through sound integration
The first, Echo, is a series of rings arranged to represent sound being transmitted and reflected.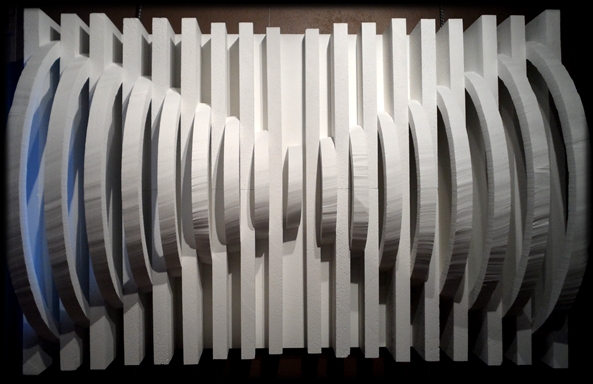 The second, Logic, is a combination of stacked linear blocks and sculpted pieces that create the feeling of the bars on an equalizer and sound waves being emitted.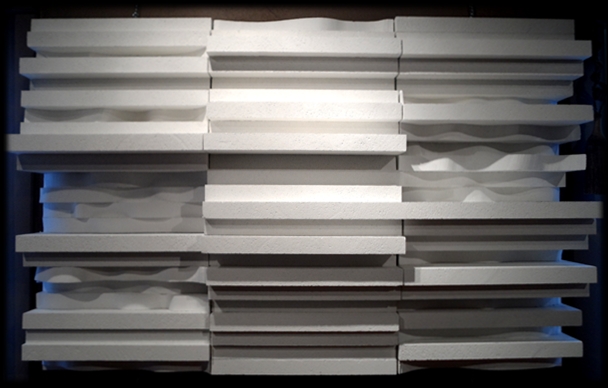 The sound element of Clash is incorporated through audience participation. Two cymbals, one located on each side of the two sculptures, invite the viewers to add their point of view to the conversation by playing the cymbals. While guests contemplate the meaning of the piece individually, their thoughts will be interrupted and influenced by the collaboration of sounds made by the other guests interacting with the piece.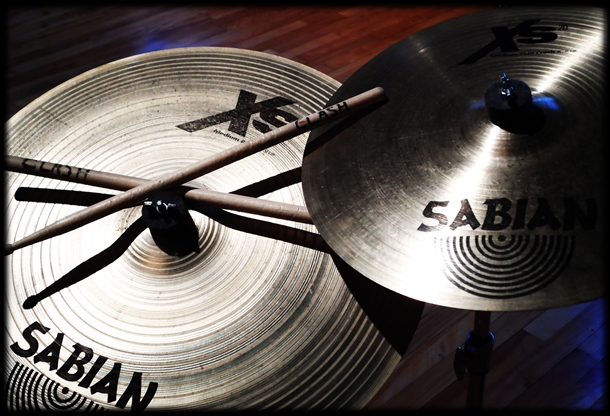 With this being my first interactive installation piece, I wasn't sure what to expect. I was happily surprised by the level of enthusiasm from Night/Shift goers. Approximately 400 people visited my location and there was a lot of clamorous  conversation happening. Everyone really seemed to enjoy crashing away at the cymbals and there were a few great instances where people cheered and clapped for the players!
Video of the actual event coming soon!!
I'm already dreaming up new installation ideas and looking forward to next year's Night/Shift extravaganza!
Here's a quick link to the piece The Waterloo Region Record published about Night/Shift.
Thanks to Alternatives Journal for organizing this incredible nocturnal adventure, and all the amazing people who came out to experience it with us!