Update! Update! Update!  THE iHeARTapple EXHIBITION HAS BEEN EXTENDED!!!
VISIT US AT CARBON COMPUTING UNTIL SATURDAY MAT 12TH!!
Join us Friday May 11th from 6:45pm-8pm for our Artist Talk by Jennifer Gough!
Three months, one Artist in Residency, and a WACKLOAD of Apple computer parts later, the time has finally come!
I'm happy to announce that the Opening Reception of the iHeARTApple Exhibition will be held on April 27th 2012, 8pm at Carbon Computing.  Please join us for the evening.  The show will run from Sat April 28th to Sat May 5th so drop by during store hours to check it out if you can't make the opening!
Here's a little sneak peak of what's in store!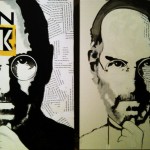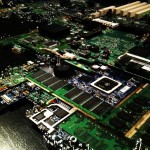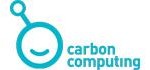 BIG THANKS to our friends at Carbon Computing, The Wright Limousine Service, Martin's Family Apples, and Little Mushroom Catering for being such fantastic sponsors!!
Read on to get all the "Nitty Gritty" details!
It's amazing how time flies when you're having fun!
Month #1 of my Artist In Residence at Kwartzlab is already over!
I haven't logged a ton of hours on site, but that's all about to change….
So, as many of you know I am working on a new project.  I haven't released many details yet but now feels like a good time to let the cat out of the bag.  So here it is.
Minds Eye Studio Art is being sponsored by Carbon Computing!  Yes, that's right.  They have generously donated all the materials for my next exhibit!!  (Coming late April 2012)
The exhibit will be centeredaround, yep you guessed it, All Things Apple!
For the past month I have been dissecting used Mac's and other Apple products to harvest their parts.  I will be using them to create a body of work that tells a bit of the story of  Apple's history of success, pokes some fun, and hopefully inspires. Delving into the philosophy of Apple as a cutting edge leader in technology and of course the man behind it all.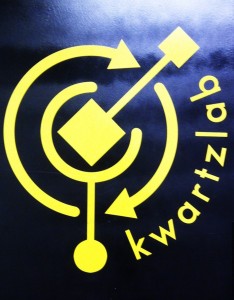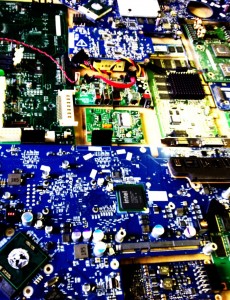 Creating sculpture from motherboards, bits, chips, wires, keys, and even the casings of the computers!  All the little intricate parts that make the whole, used in a completely different capacity than that for which they were designed.
Exploring the "Think Different" philosophy and the creative process behind taking chances and being original.
So stay tuned and watch for updates!
Follow my progress on Kwartzlab's live Ustream page!