It's no secret that I love to experiment and explore new ways to create. The excitement and challenge of a new medium always gets my creative juices flowing.
Over the past couple years I've worked with paint, mixed media materials, collage, and installation pieces. So it should come as no surprise that when the opportunity to create something for THEMUSEUM's Getting Naked exhibition came along I jumped at the chance to explore video art.
I'd already been toying with the idea of incorporating video into my practice, and even had some ideas in the vault awaiting their debut when David Marskell approached me with the invitation to create a piece themed around the Getting Naked exhibition.
Challenge accepted!
THEMUSEUM has a reputation for pushing the envelope when it comes to their exhibitions. Weather it involves bringing us interesting works from around the world or expanding our minds through thoughtful conversation, they are constantly upping the anti. The Getting Naked exhibition is the most recent example of this.
Getting Naked is a collection of over 100 rarely seen nude works of art by prominent Canadian Artists. The collection comes from the Canadian Art Bank and has been curated by Virgina Eichhorn. The idea behind Getting Naked is to promote thought-provoking, respectful discussions around the theme of nudity in contemporary art and the way it's viewed in society. At the same time, it brings to light many of the stereotypes and social perspectives we have around the nude body which can also be explored through the Naked Dialogues. The exhibition is beautifully curated and well worth checking out.
Working with the concept of how our society views nudity, body image, and sexuality I wanted to artfully depict some of those stereotypes while at the same time challenge the viewer to think about how they feel in their own naked skin.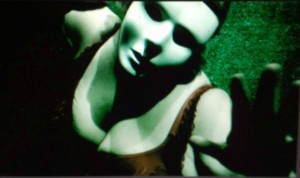 Alien in our own skin is a video installation peep-show. Conceptually, this piece has many levels. Touching on media standards of the female body, nudity vs sexuality, personal body image, and our comfortability in our own skin. I wanted to artfully depict some of these stereotypes while drawing the viewer into this intimate space where we are most vulnerable.
Stay tuned for the trailer. Coming soon!