What a way to start of 2014!
The Artist Project celebrated it's 7th year  last week with another amazing collection of artwork by more than 250 top contemporary artists from around the world. The show lasted for 4 days. Guests included seasoned collectors, first time art buyers, gallery dealers, interior designers and art lovers of all kinds. It was a creative's paradise!
You can imagine my excitement when I found out that my sculpture pieces Echo and Logic had been chosen to be part of the Installation Zone. A specific section of the exhibition dedicated to contemporary installation work. It was awesome. My pieces were displayed on the Art Chat stage, so perfect since they represent the exchange of ideas and communication. More info.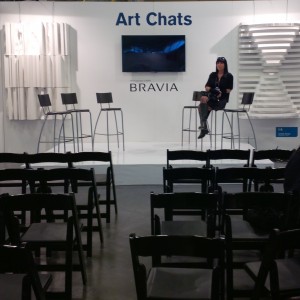 Here's me stealing a moment before the next session starts!
Being part of The Artist Project was an incredible experience and the perfect way to kickstart 2014, I'm already looking forward to next year. I met some really great artists and connected with so many great people. All in all it was a huge success. Congrats to TAPToronto on another excellent show!